About
The prints of Margaret Preston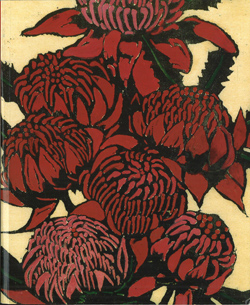 Roger Butler
The prints of Margaret Preston: A catalogue raisonne
Canberra: National Gallery of Australia, 2006
384 pages, 414 colour illustrations, 30x25cm. Bibliography, Index.
ISBN 0-19-554865-5
Margaret Preston is one of Australia's most popular artists. She excelled as painter, potter, basket weaver, rug maker, printmaker and protagonist.
Printmaking was a constant during her long creative life. She dabbled in etching before 1920, with the friendly craft of woodcut printing in the 1920s and 1930s, masonite-cuts in the early 1940s, monotype production later in the decade and stencil prints in the 1950s. The work she produced in the 1950s (when aged in her 80s) was just as vital as those of her student days.
Prestons commitment to developing an Australian art based on living traditions both here and within the region, speaks of the future rather than the past.

This catalogue raisonné documents over 400 of her prints.
Available from
The National Gallery of Australia Bookshop
phone: +61 2 6240 6438, fax: +61 2 6240 6628 or email: ecom@nga.gov.au
Distributed in Australia by Thames & Hudson
Distributed in England and Europe by Thames & Hudson
Distributed in The United States of America by Washington University Press
Table of Contents
A biography
Prints and a national art
Margaret Preston and printmaking
Catalogue of works
Appendixes

1. Works exhibited by Margaret Preston
2. Margaret Preston on print technique

Wood-blocking as a craft
Some silk-screen methods
Monotypes

3. Mounting and framing of Margaret Preston prints
4. Artists who have prints have been wrongly attributed to Margaret Preston

Bibliography
Index of prints
Subjects
Margaret Preston, Australian art, Australian printmaking, Margaret Preston printmaker