About
Islands in the sun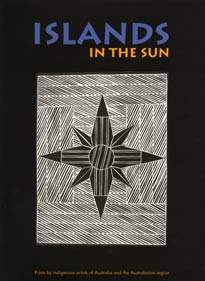 Roger Butler
Islands in the sun: Prints by indigenous artists of Australia and the Australasian region
Canberra: National Gallery of Australia, 2001
116 pages, 109 colour illustrations, 30x21cm. Bibliography, Biographies, Checklist.
ISBN 0-642-54141-8
Islands in the sun, is the first major catalogue to document contemporary prints by indigenous artists from Australia and the Australasian region. The catalogue and exhibition brings together a remarkable and extensive collection of prints by artists from Arnhem Land, Bathurst and Melville Islands, Torres Strait Islands, Papua New Guinea, Aotearoa New Zealand and the Pacific Islands. Also included is an innovative group of collaborative works which cross traditional geographic and cultural boundaries.
The arts have flourished in each of these societies and there is now a renewed interest in traditional images, designs and narratives. New images and stories have also evolved reflecting the changing times and the introduction of new technologies. Printmaking has proved vital in making the visual arts of these cultures widely accessible. The works illustrated in the catalogue are from the extensive collection of the National Gallery of Australia.
Available from
The National Gallery of Australia Bookshop
phone: +61 2 6240 6438, fax: +61 2 6240 6628 or email: ecom@nga.gov.au
Distributed in Australia by Thames & Hudson
Distributed in England and Europe by Thames & Hudson
Distributed in The United States of America by Washington University Press
Table of Contents
Printmaking by Aboriginal artists by Roger Butler

Prints from the Tiwi Islands
Prints by Aboriginal artists from Arnhem Land

Motif etching: The history of Ilan printing by Brian Robinson

Prints from the Torres Strait Islands

Printmaking in Papua New Guinea by Melanie Eastburn
A Pacific accent: Polynesian printmakers in Aotearoa New Zealand by Nicholas Thomas

Prints by Maori artists
Prints by Pacific Islander artists

Unfamiliar territory: the art of constant translation by Nigel Lendon

The cross-cultural experience

Biographies
Checklist
Bibliography
Subjects
Australian Aboriginal printmaking; Tiwi printmaking; Arnhem Land printmaking; Papua New Guinea printmaking; Ilan (Torres Strait Islands) printmaking; Polynesian printmaking; Maori printmaking; Pacific islander printmaking; Cross-cultural printmaking