About
Redback Graphix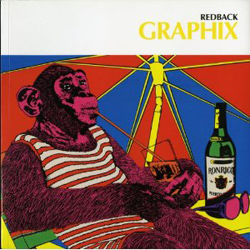 Anna Zagala
Redback Graphix
Canberra: National Gallery of Australia, available November 2008
128 pages, 100 + colour illustrations, 25.5 x 25.5cm., Bibliography, Index.
ISBN 978-0-642-54198-7
Design and screenprinting studio Redback Graphix used the power of the printed image to educate and inspire. From 1979 to 1994, Redback Graphix produced posters that combined witty graphics with eye-watering colours to give voice to a raft of pressing social issues – from AIDS awareness, alcohol abuse and human rights through to the promotion of local film screenings and benefit gigs. Originally designed for the street, these posters are now considered icons of an era and are highly collectable. The book includes a catalogue raisonné of Redback Graphix posters.
Available from
The National Gallery of Australia Bookshop
phone: +61 2 6240 6438, fax: +61 2 6240 6628 or email: ecom@nga.gov.au
Distributed in Australia by Thames & Hudson
Distributed in England and Europe by Thames & Hudson
Distributed in The United States of America by Washington University Press
Table of Contents
Before Redback

Street days
Earthworks for the good of the community
Brisbane

Glory days

Redback posters
Greetings from Wollongong
Stewart Park
Exhibitions
180 km north
Diversification

After Redback
Bibliography
Checklist
Index
Subjects
Australian posters, political posters, Redback Graphix
From the series
The printed image Australia | Asia | Pacific
Series editor: Roger Butler
Redback Graphics is the third book to be published by the National Gallery of Australia in this new series. Supported by the Gordon Darling Australasian Print Fund, it will publish the research of scholars awarded The Gordon Darling Fellowship and other material which makes a significant contribution to scholarship relating to prints and printmaking in Australia and the Asian Pacific region.