About
Poster Art in Australia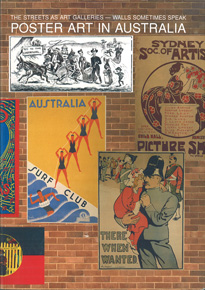 Roger Butler
Poster art in Australia
Canberra: National Gallery of Australia, 1993
100+ pages, 100+ colour illustrations, 30x25cm., Bibliography, Index.
ISBN 0-642-13020-5
Poster art in Australia is organised in two parts to reflect the crucial differences between the most innovative posters of the nineteenth and the first half of the twentieth century and those produced by alternative media groups after 1960. The earlier postermakers believed that they had a social responsibility to educate their audience in aesthetics. Such a role for the poster was in keeping with the nineteenth century belief in self-advancement through education.
The second part emphasis the posters produced by alternative groups primarily concerned with social and political issues. Particular attention has been given to ensuring national representation and works from all states and territories of Australia are collected.
The collection of Australian posters was initiated by James Mollison, Founding Director of the National Gallery, who in 1973 acquired posters from the Tin Sheds, Sydney. The catalogue reproduces works by all major groups including Another Planet, Chameleon, Earthworks, Lucifoil, Megalo and Redback. The collection of Australian posters in the collection of the National Gallery of Australia is now numbers over 5000 items.
Availability
Out of print
Table of Contents
The streets as art galleries

Australian posters of the nineteenth century
The poster style
Blamire Young: 'A wife, a poster virus, and no money'
The Australian vernacular style
Fighting for conscription
The 'army of commerce'
The thirties: Transport and tourism
The post-war years
Overseas connections

Walls sometimes speak

'Blowing in the mind'
Power to the people
'Earthworks for the good of the community'
Redback: wages paid and fees charged accordingly
Posters and community arts
The poster that walks
A sense of history
Convergence

Notes
Appendix
Exhibitions and reviews
Bibliography
Subjects
Australian posters, travel posters; political posters, Community arts; Redback Graphix, Earthworks posters