Resources
Eighth symposium (2015)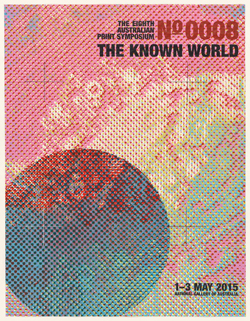 The Known World
The Eighth Australian Print Symposium
Prints were once the prime means of communicating information about the unknown world, but how does print production operate today? This three-day symposium will explore various strategies that contemporary print artists have adopted to make sense of our world.
National Gallery of Australia
1-3 May 2015
Convenor: Roger Butler
Senior Curator Australian Prints and Drawings, National Gallery of Australia
This symposium is supported by the Gordon Darling Australia Pacific Print Fund
Bookings
Symposium registration essential
Register here or phone (02) 6240 6701 (Mon-Fri)
$350 full rate, $290 members/concessions; $160 students (includes refreshments)
Symposium dinner bookings essential
Book here or at (02) 6240 6701 (Mon-Fri)
$85.00
Contacts
For information and special requirements +61 2 6240 6411
---
Quick links
---
Symposium Programme
Friday 1 May
10.00 - 11.15
Registration, viewing of gallery exhibitions
11.15 - 11.30
Welcome to Country
Ngambri custodian, Paul House, on behalf of Walgalu Ngambri-Ngurmal and Ngunnawal-Wallabollooa Aboriginal people of the Canberra region.


Welcome
Dr Gerard Vaughn, Director, National Gallery of Australia
11.30 - 12.30
Keynote Speaker.
Dr Ann Stephen, Senior Curator, University Art Gallery, The University of Sydney will launch the symposium with a reflection on the impact of the visionary Bauhaus model on the circulation and production of prints by Australian artists who explore the spaces between present knowledge and future possibilities.
12.30 - 1.30
Lunch: Gandel Hall
1.30 - 2.45
Celestial bodies
Kate Sweetapple is a Sydney-based design academic who explores the intersections of words and images through exhibitions, installations and printed matter.
Vanessa Berry is an artist and writer who explores the overlooked spaces of Sydney through zines, blogs and mapping projects. 'You have found yourself in Vanessa Berry World. Do not be afraid. It is almost exactly like the world you are from.
Brian Robinson is based in Cairns and is widely recognised as an artist and a curator. His practice includes painting, printmaking, sculpture and design. The graphic style in his practice combines his Torres Strait Islander heritage with a strong passion for experimentation, both in theoretical approach and medium, as well as a crossing of the boundaries between reality and fantasy [Nomad].
2.45 - 3.15
Afternoon tea: Gandel Hall
3.15 - 4.30
Down to earth
Hertha Kluge-Pott is a Melbourne-based printmaker. This paper will discuss her extraordinary series of prints relating to Cape Bridgewater, a wild, isolated ocean beach near Portland, Western Victoria.

Chris De Rosa Adelaide. The patterning and surfaces of the domestic sphere have become the source material for works that play with ideas about nostalgia and the decorative. These (often floral) patterns are overlaid with and played off against, scientific, botanical images of the natural world. [SALA]
John Wolseley Melbourne. My work over the last thirty years has been a search to discover how we dwell and move within landscape. I have lived and worked all over the continent from the mountains of Tasmania to the floodplains of Arnhem land. I see myself as a hybrid mix of artist and scientist; one who tries to relate the minutiae of the natural world - leaf, feather and beetle wing - to the abstract dimensions of the earth's dynamic systems.
Evening Events
6.00 – to late
NGA event opening of Streetwise.
---
Saturday 2 May
9.30 - 10.45
Internal structures
Patsy Payne NSW/ACT. My practice has been characterised by an ongoing interest in the relationship of my body to the rest of the world and how the boundary between the individual and the world seems to be a permeable membrane rather than an opaque barrier. Experiences, landscapes, relationships with things and beings are embedded in us tangibly and ephemerally and act as agents of change in the body.
Lonnie Hutchinson New Zealand artist Lonnie Hutchinson tells stories using motifs based on kowhaiwhai (traditional Māori decoration) as well as invented patterns drawn from contemporary culture. These address personal, political, gender and cultural concerns and ideas related to ritual, memory and spiritual practice.
Richard Harding is a print based artist and Senior Lecturer in the Printmaking Studio at the School of Art, RMIT University Melbourne Australia. Harding's visual research is informed by architectural and queer theory utilizing print media, traditional and electronic, as a vehicle for an ongoing art practice.
10.45 - 11.15
Morning tea: Gandel Hall
11.15 - 12.30
Hunters and collectors : active history
Rew Hanks is a Sydney –based artist who finds the subject of his minutely detailed linocuts in 19th century Australian colonial history.

Joan Ross is a Sydney video animater who uses colonial prints and paintings as the starting point for her fluoro interventions relating to colonisation in Australia.
The Island Continent is an expansive digital archive, founded by artist and illustrator Eamon Donnelly, which aims to research, curate, collate and document the Australian image in art, design, photography, literature, popular culture, television and advertising.
12.30 - 1.30
Lunch: Gandel Hall
1.30 - 2.45
Workshops with attitude
Negative Press, Melbourne 'is an independent publisher of contemporary art in print [who] aims to make projects that extend the discourse between art and printed matter'. (Trent Walter, Director)

Tooth and Nail, Adelaide. Founded in 2011 by Jake Holmes and Cassie Alvey, this artist-run initiative houses artist studios, a gallery space, printmaking supplies store, and an open access printmaking workshop.
Canopy Art Centre, Cairns is dedicated to showcasing the work of Far North Queensland artists. Housed in the building is Editions Tremblay, run by a pioneer of collaborative printmaking and publisher, Theo Tremblay.
2.45 - 3.15
Afternoon tea: : Gandel Hall
3.15 - 4.30
Analogue nostalgia
Tony Kanellos is Curator of the Santos Museum of Economic Botany, Botanic Gardens, Adelaide. His exhibitions include Postcards from the Edge of the City and Imitation of life.
Clint Harvey is at the helm of Design College Australia, Brisbane. He is a passionate advocate of letterpress printing.
The Good Copy Melbourne 'is a writing studio, a shop, a school and a publisher. Do we even know what we're doing omg why are we doing all these things at once.' It aims to provide support for writers through a well-stocked pencil jar in a social space where like-minded folk come to tinker with 'zines, screens and magazines'.
Evening Events
5.00 - 8.00
Exhibition openings:
Book launch: Hertha Kluge-Pott: printmaker, NGA Bookshop at 5pm
James Turrell: A retrospective, exhibition access from 5-7pm
7.00 for 7.30 (until late)
Symposium Dinner Gandel Hall.
Delegates who wish to attend the dinner need to book this separately to symposium registration.
Bookings essential here or at (02) 6240 6701 (Mon-Fri) $85.00
---
Sunday 3 May
10.00 - 10.45
Keeping in Touch
This session is open to delegates to report on current projects and the like. Please contact Roger Butler (02 62406414) if you wish to speak briefly (5 mins) in this session.
10.45 - 11.15
Morning Tea: Gandel Hall
11.15 - 12.30
Science / Fiction
Dr Raquel Ormella has built her practice around a diverse range of methodologies and media, including prints, video, paintings, installations, drawings, and zines. Her art is grounded in exploring the complex relationships between humans and the natural environment, with a particular focus on urban expansion and forest activism. Raquel is Honours Convenor (Visual Arts and Design Arts), School of Art, ANU College of Arts & Social Sciences.
Marian Tubbs is a Melbourne-based artist who uses familiar materials in assemblage, photography and paint to investigate philosophical questions with form. A recurring theme in her work is how materiality intersects with notions of value, pleasure, and reality.
Erica Seccombe lives and works in Canberra. Using her printmaking background, she combines photographic screen print with digital and electronic media. Since 2006 Erica has been working with researchers in the ANU Department of Applied Mathematics and using 3D Microcomputed X-ray technology to create animated projection installations from volumetric data rendered in Drishti.
End of Symposium program.
---
Complementary Events
Sunday 3 May
1.00 - 2.30
Annual General Meeting: Print Council of Australia
Small Theatre, National Gallery of Australia
2.00 - 4.30 Megalo Print Studio + Gallery Closing Drinks
John Loane exhibition and car boot sale – purchase or exchange your prints.
Monday 4 May
10.00 - 4.00
Works on paper: Curatorial Forum.
Small Theatre, National Gallery of Australia
A forum for curators and arts professionals who have a particular interest in the collection and display of works of art on paper. For further information call Roger Butler (02) 6240 6414.
---
Exhibitions on in Canberra during the symposium
ANCA Gallery 1 Rosevear Place, Dickson
Post-War: Thousand Mile Stare. Solo exhibition by Katy Mutton
ANU School of Art Gallery Building 105B, Ellery Cres, Acton
Interchange: A printmaking dialogue between Australia and Thailand
Printmedia and drawing, Edition and Artists Book areas
ANU Drill Hall Gallery Kingsley St., Acton. (ph.6125 5832)
Return to ANZAC Cove – 'Your Friend The Enemy'
Australian War Memorial Treloar Crescent, Campbell
After Afghanistan and as of Today… Ben Quilty: After Afghanistan and Alex Seton: As of today
Beaver Galleries 81 Denison St. Deakin.
Jörg Schmeisser and Contemporary Australia printmakers
Canberra Contemporary Art Space Gorman House Arts Centre, Ainslie Ave., Braddon.
Groundrush: with Rachel Bowak, Pam Lofts, Kim Mahood, Pip McManus and Andrew Moynihan..
Canberra Contemporary Art Space III 19 Furneaux St., Manuka.
Catfish Blues: an installation by Francis Kenna.
Canberra Museum and Art Gallery 176 London Circuit, Canberra
Women's power to stop the war.
Nancy Sever Gallery 4/6 Kennedy Street Kingston
Michael Taylor: Recent work in paintings and Prints
National Gallery of Australia Parkes Place, Parkes
James Turrell: A retrospective.
Myth and memory in recent American landscape photography.
National Gallery of Australia Contemporary Queen Elizabeth Terrace, on the southern foreshore of Lake Burley Griffin, Parkes
Streetwise: New prints @ NGA contemporary
National Library of Australia Parkes Place West, Parkes, Canberra
Keepsakes: Australians and the Great War.
National Portrait Gallery King Edward Terrace, Parkes
.National Photographic Portrait Prize
All that fall: Sacrifice, life and loss in the First World War
M16 Artspace 21 Blaxland Crescent, Griffith (ph. 6295 9438)
Megalo Access Arts 21 Wentworth Avenue, Kingston
Ceci n'est plus, une gravure à l'eau forte: John Loane