Resources
Fifth symposium (2004)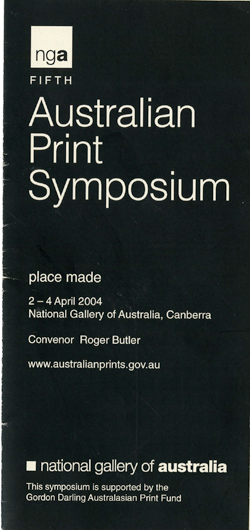 Place made
FIFTH AUSTRALIAN PRINT SYMPOSIUM
National Gallery of Australia, 2–4 April 2004
Convenor: Roger Butler, Senior Curator, Australian Prints and Drawings, National Gallery of Australia
This symposium is supported by the Gordon Darling Australasian Print Fund
The Fifth Australian Print Symposium was held to coincide with the major exhibition place made: Australian Print Workshop
Keynote address
Cultural responsibilities past and present.
Banduk Marika
Banduk Marika, a senior Yolngu woman from Yirrkala, has been active in land issues through the Northern Land Council and the Dhimurru Land Management Aboriginal Corporation. She established the Gamarrwa Nuwal Landcare and won the Northern Territory Landcare Program Individual Landcarer Award in 2001. In that year she was also honoured with the Australia Council's Red Ochre Award for her outstanding contribution to indigenous art and culture. Her linocuts, which she has produced since 1982, are in major collections both in Australia and overseas
Sessions
Workshops: the professional environment
From small things, big things grow.
Anne Virgo
Anne Virgo is the Director of the Australian Print Workshop, Melbourne, Australia.
Reproduction for profit and pleasure.
Michelle Perry
Sydney based Michelle Perry has printed for artists as diverse as Peter D. Cole, Bernard Ollis, Robyn Gordon, Guy Warren and Salvatore Zofrea.
Peter Zanetti
Peter Zanetti is the Director of Megalo Access Arts, Canberra, Australia
Artists: the workshop experience
Aida Tomescu
Aida Tomescu has worked extensively with John Loane at the Australian Print Workshop and later at Viridian Press, Olinda, Victoria, Australia.
David Sequeira
David Sequeira, artist and museum professional, was awarded a residency at Megalo Access Arts, Canberra, Australia, in 2003.
Title to be announced.
Sally Smart
Sally Smart, artist and the recipient of a Collie Trust Print Education Program scholarship at the Australian Print Workshop in 1995
Off centre, looking beyond the east coast
Dimity Phillips
Dimity Phillips is a doctoral candidate in Art History at the Australian National University, Canberra, Australia. Her thesis addresses issues of access and equity facing contemporary women printmakers, with a particular focus on women practising in regional Australia.
The Punttu portrait print project.
Alison Alder
Alison Alder lived and worked in Tennant Creek, Northern Territory, Australia, 1994–2003. She coordinated the Punttu portrait project for the Nyinkka Nyunyu Art and Culture Centre.
What is happening in the West.
Susanna Castleden
Coordinator Printmedia, Art and Design Curtin University of Technology, Western Australia
Printmaking in the Asia, Pacific region
Chaitanya Sambrani
Chaitanya Sambrani studied Economics and Art Criticism at the Maharaja Sayajireo University, Baroda, India. He presently lectures in Art Theory at the Canberra School of Art, Australian National University.
Printmaking in Singapore Now.
Joyce Fan
Joyce Fan is Assistant Curator at the Singapore Art Museum and wrote her thesis on printmaking in Singapore in the 1950s and 1960s.
Chan Tuck Yew Ernest
Chan Tuck Yew Ernest is a Singaporean artist printmaker
Daniel Waswas
Daniel Waswas has studied and worked in PNG and Aotearoa New Zealand. A printmaker and painter, he has recently established GALLERYPNG in Boroko
Working offshore, Australian artists working in the Asia, Pacific region
Ruth Burgess
Ruth Burgess is a Sydney-based woodblock artist, who first travelled to China in 1988. She has made eight subsequent visits.
Working in Nagasawa.
Brent Harris
Born in Aotearoa New Zealand, Brent Harris has lived in Australia since 1981. A painter and printmaker, Harris was residency at the Nagasawa Art Park, Awaji Island, Japan in 1999.
Collaborations in Vietnam.
Russell Craig
Russell Craig is Senior Lecturer in Printmaking at Griffith University, Queensland. He has worked in Vietnam and collaborated with Vietnamese printmakers
Off the wall, printed in the streets
Din Heagney
Din Heagney is a Melbourne-based freelance writer and artist working with groups including Australian Centre for Contemporary Art, (niche): and Swinburne New Media.
Stencil art: a fresh medium.
James Dodd
James Dodd is a Melbourne-based stencil artist. His work was included in the 2002 Primavera, at the Museum of Contemporary Art, Sydney, Australia.
The art of gettin' up: Citylights and the CBD insurrection.
Andrew Mac
Andrew Mac is a Melbourne-based artist and founder/Director of public lightbox gallery, Citylights
Keeping in touch: sharing information
Open session
Angela Gardner
The art of constant rearrangement
Philippa Kelly
Phillipa Kelly is an independent art writer and was formerly Editor of Art Monthly Australia.
Back to my own work.
Franck Gohier
Franck Gohier is a Darwin-based artist and was former director of Red Hand Prints.
Teaching an old dog new tricks, new print initiatives at Port Jackson Press.
Belinda Fox
Belinda Fox, artist and printmaker, is Workshop Manager of the recently relocated workshop of Port Jackson Press