Resources
First symposium (1989)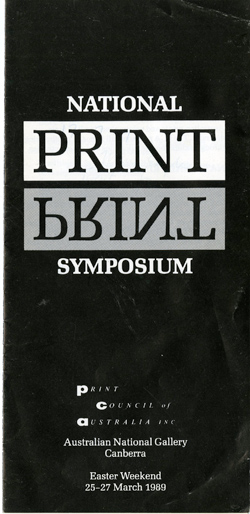 National Print Symposium
FIRST AUSTRALIAN PRINT SYMPOSIUM
National Gallery of Australia, 25-27 March 1989
Convenor: Roger Butler, Curator of Australian Prints, Australian National Gallery for the Print Council of Australia.
The First Australian Print Symposium was structured to complement the major Australian Bicentennial exhibition Prints and Australia: Pre-Settlement to present presented at the National Gallery of Australia in 1989.
Keynote address
The Tamarind Lithographic Workshop.
June Wayne
June Wayne is highly regarded internationally for her innovations in the printmaking field. Her stature and reputation is due both to her explorations in various print media and to her instrumental role in the now widespread interest in lithography, through her establishment of The Tamarind Lithography Workshop, Los Angeles.
Sessions
Artists' Perspectives
Bea Maddock.
Bea Maddock painter, printmaker and papermaker, has worked in Tasmania, England and Victoria. She was formerly Head of Printmaking at The National Gallery of Victoria Art School.
Colin Lanceley
Colin Lanceley, one of the Annandale Realists, first produced prints while in London in the 1970s.
Ken Orchard
Ken Orchard is both artist and theorist. He has created large scale woodblock prints which utilise printed images from the nineteenth century.
Kate Lohse
Kate Lohse studied printmaking with Mirabel Fitzgerald and at the Workshop Arts Center, Willoughby. She now lives in Broken Hill.
Print Education/Criticism/Originality
Margaret Brandel
Margaret Brandel is an Education Officer at the Australian National Gallery
Laurel McKenzie
Laurel McKenzie is Lecturer in printmaking at Box Hill College of TAFE, Melbourne.
Pat Gilmour is Senior Curator, International Art at the Australian National Gallery. She has written extensively on prints and print collaboration.
Christopher Allen.
Christopher Allen is a Sydney-based art writer.
Grahame King
Grahame King a printmaker who specialises in lithography, helped form the Print Council of Australia and The Victorian (later) Australian Print Workshop
Public Collections
Daniel Thomas curated the first major exhibition of Australian prints in 1963 when Curator of Australian Art at the Art Gallery of New South Wales. He is presently Director of the Art Gallery of South Australia.
Ron Radford
Ron Radford former Director of the Ballarat Fine Art Gallery and now Senior Curator of Painting at the Art Gallery of South Australia.
Kay Vernon
Kay Vernon is Assistant Curator of Prints at the Art Gallery of New South Wales.
Irena Zdanowicz
Irena Zdanowicz is Curator of Prints at the National Gallery of Victoria.
Roger Butler
Roger Butler is Curator of Prints, Posters and Illustrated Books at the Australian National Gallery.
Custom Printing, Print publishing and Print Collecting
John Loane
Joan Loane was the inaugural Director of the Victorian Print Workshop (later Australian Print Workshop) in Melbourne. He is now the Director of Viridian Press in Melbourne.
Port Jackson Press.
David Rankin
David Rankin, painter and printmaker is the Director of the print publisher Port Jackson Press
Neil Leveson
Neil Leveson is Director of the Victorian Print Workshop
Political/Social concerns
Mandy Martin
Many Martin, a political activist, produced political posters in Adelaide in the 1970s. She is now a Lecturer in Painting at the Canberra School of Art.
Julie Ewington
Andrew Hill
Jeffrey Samuels
Eugenia Hill