Resources
Third symposium (1997)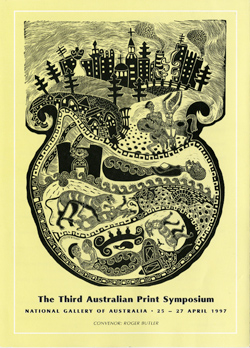 Displacements
The Third Australian Print Symposium
National Gallery of Australia, 25-27 April 1997
Convenor: Roger Butler, Senior Curator Australian Prints, National Gallery of Australia
The Third Australian Print Symposium was structured to complement the major exhibition The Europeans: Émigré Artists in Australia 1930-1960.
The exhibition The Europeans: Émigré Artists in Australia 1930-1960, which showcased works of art in all media, was particularly rich in prints. It included monotypes of extraordinary power by Ludwig Hirschfeld Mack, Erwin Fabian, Klaus Friedeberger and Bruno Simon that were produced in internment camps in Australia during the 1940s. Louis Kahan, Paul Haefliger, Udo Sellbach and Henry Saulkauskas were represented by a wonderful series of (self) portraits. Also on display was a vigorous group of lithographs and woodcuts from the 1950s by Melbourne-based artists known primarily for their sculpture-Julius Kane, Guenter Stein, Teisutis Zikaras and Karl Duldig. In addition the exhibition featured books with wood engraved illustrations by Vaclovas Ratas and Eva Sandor, and commercial poster and book designs by Gert Sellheim.
The symposium's overarching theme - that of displacements - was derived from the exhibition. Speakers addressed the theme in many different ways - cultural, physical, emotional, and technical - relating it to printmaking practice.
The aim of the symposium was to encourage the exchange of ideas and experiences between artists, curators, collectors, educators, conservators, students and the wider public.
The Australian collection of prints is supported by the National Gallery of Australia Research Library collection of books, catalogues, invitations, and archival material.
Keynote address
The Diaspora Cycle.
Imants Tillers
Imants Tillers, born in Sydney of Latvian parents, is one of Australia's most prominent artists. Primarily known for his multi-panel paintings he has a long interest in printmaking. His first etchings were made with George Baldessin in Paris in 1968. More recently he has worked with John Loane of Vridian Press, Melbourne. He is presently in the process of producing a 48-panel etched version of his monumental painting Diaspora.
Sessions
Displacements
Macedonia in Newcastle - The prints of Vera Zulumovski.
Ross Woodrow
Ross Woodrow, is Head of Art Theory, Department of Fine Art, The University of Newcastle.
Tracing a Line.
Treahna Hamm
Treahna Hamm, Aboriginal Australian artist and printmaker is based in Wagga Wagga.
Black is Not as Black as All That.
Lindy Lee
Lindy Lee is an Australian artist of Chinese decent who deals with issues of the nature of self.
Background briefings
Imaginary Homeland.
Milan Milojevic
Milan Milojevic is Head of Printmaking, University of Tasmania.
Brisbane in the Early 1950s-The reception of Margaret Cilento's New York prints.
Jude Savage
Jude Savage is Manager, Travelling Exhibitions, National Gallery of Australia
Democratically Dispersed-Regional Printkeepers.
Allen Mann
Allen Mann is Senior lecturer, School of Arts, University of Ballarat, Victoria
Sculptors as Printmakers-Melbourne in the 1950s.
Christopher Heathcote
Christopher Heathcote is a Melbourne-based art historian and critic, author of A Quiet Revolution
Other places
Modern Migration.
Yvonne Bong
Yvonne Bong, printmaker and painter, recently returned from working in Korea
Transit Zone.
Seraphina Martin
Seraphina Martin is Lecturer, The Arts Workshop, University of Sydney
Addressing the Wounds - A residency in the Philippines.
Neil Roberts
Neil Roberts is a Canberra-based artist producing sculpture, installations and occasionally prints.
Here/Now
From Fitzroy to Fitzroy Crossing.
Martin King
Martin King is Senior Printer, Australian Print Workshop, Melbourne
Re Place:
Patsy Payne
Patsy Payne is Lecturer in Printmaking, ANU Canberra School of Art
Words and Pictures-A digital investigation.
Jan Davis
Jan Davis is Head of School of Visual Arts, Southern Cross University, Queensland
Artists' Books
A Suitcase for London.
Noreen Grahame
Noreen Grahame is Director, Grahame Galleries & Editions, Brisbane
The Lyrebird on Castle Hill.
Ron McBurnie
Ron McBurnie is Lecturer, Printmaking, James Cook University, Queensland
For Posterity's Sake - Library or gallery? Placing the artist's book.
John Thompson
John Thompson is Director, Collection Research, Documentation and Promotion, National Library of Australia
Print Installation
The blood of others.
eX de Medici
eX de Medici is a Canberra-based artist and tattooist
A-B, Print installation.
Heather Hesterman
Heather Hesterman is a Sessional Lecturer, Printmaking, RMIT, Melbourne
Replicating the Imagination.
Arthur Wicks
Arthur Wicks is an artist based in Wagga Wagga, New South Wales, who has produced many prints over the last 20 years
The Pacific
We Don't Dance for No Meaning.
Wendi Choulai
Wendi Choulai is a Papuan textile designer, currently completing her Master of Art and Design at RMIT, Melbourne.
A Pacific Accent: Polynesian artists in Aotearoa New Zealand.
Professor Nicholas Thomas
Nicholas Thomas is Director, Centre for Cross-Cultural Research, Australian National University
Pacific Presences. Exchange and Meaning in Contemporary Solomon Island Art.
Ross Searle
Ross Searle is Director, University Art Museum, University of Queensland
Information Exchange
Acidic Instincts.
Judy Horacek
Judy Horacek is a freelance cartoonist, who has recently turned to printmaking.