Resources
Fourth symposium (2001)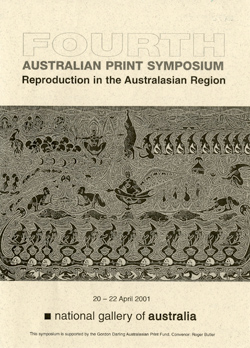 Reproduction in the Australasian Region
FOURTH AUSTRALIAN PRINT SYMPOSIUM
National Gallery of Australia, 20 -22 April 2001
Convenor: Roger Butler, Senior Curator of Australian Prints, National Gallery of Australia
This symposium was supported by the Gordon Darling Australasian Print Fund
The Fourth Australian Print Symposium was held to coincide with the major exhibition Islands in the sun: Prints by Indigenous artists of the Australasian region.
Keynote Address
The art of reproduction.
Edward Colles
Edward Colless, Senior Lecturer, School of Art, University of Tasmania. His book of selected writings The Error of My Ways was published by the Institute of Modern Art, Brisbane in 1995. 'Edward Colless is one of Australia's finest writers...an unclassifiable, border-crossing poet, he dissolves the conventional lines separating art criticism, fiction, reverie and autobiography.' (Adrian Martin)
Reproduction
Zara Stanhope
Zara Stanhope is Director, Adam Art Gallery, Victoria University of Wellington, Aotearoa New Zealand
The Top 20 Amateur Wrestling Sites: The Syntax and Circulation of Public Domain Web Images.
Chrisopher Chapman
Christopher Chapman is Director, Experimental Art Foundation, Adelaide
Wrapped in text/Raptor text: encoding nature in Speilberg's Jurassic Park.
Alison Munro
Alison Munro is a Canberra-based artist
Image production
Title to be announced.
John Young.
John Young is Melbourne based artist who uses replicated images in his paintings.
Penny Mason
Penny Mason is a Launceston based artist, Lecturer in Painting and Drawing. School of Visual and Performing Art, University of Tasmania
Ian McLean
Ian McLean is Senior Lecturer, School of Architecture and Fine Art, University of Western Australia
In the region
Brian Robinson
Brian Robinson a Cairns based Torres Strait Islander artist is Curator of Indigenous Art, Cairns Regional Gallery. Brian is co-curator of the exhibition Islands in the Sun, a collaboration between Cairns Regional Gallery and the National Gallery of Australia.
Melanie Eastburn
Melanie Eastburn was the inaugural recipient of The Gordon Darling Fellowship for the Study of Australasian Prints.
Marian Maguire
Marian Maguire artist and printer, established PaperGraphica, in Christchurch, Aotearoa New Zealand in 1995. Like The Limeworks, which she established in 1987, the workshop specialises in lithography. Marian has printed the works of Ralph Hotere and John Pule, among others.
Working together
Title to be announced.
Michel Tuffery
Michel Tuffery is a Pacific Islander printmaker and performance artist based in Aotearoa New Zealand.
Nigel Lendon
Nigel Lendon is a Reader in Visual Arts and Deputy Director, ANU Canberra School of Art.
Meeting of the Waters; a dialogue in visual language.
Jan Hogan
Jan Hogan is a Darwin based artist. Jan Hogan was a coordinator of the Australasian Print Project at the University of Northern Territory, Darwin.
Places of Production
Here, there and almost everywhere.
Anne Virgo
Anne Virgo. Director, Australian Print Workshop, Melbourne. The Australian Print Workshop, one of the oldest print workshops in Australia, this year celebrates 20 years of production.
Basil Hall
Basil Hall is Editioning Manager, Northern Editions, Northern Territory University. Basil Hall was formerly the Director of Studio One, Canberra.
Clive Barstow
Clive Barstow is Senior Lecturer and Co-ordinator of the Printmaking programme at the WA School of Visual Arts, Edith Cowan University.
Speaking of artists
A life in woodcuts: L'Appassionarta.
Salvatore Zofrea
Salvatore Zofrea. Sydney based artist who over the last decade has produced a series of narrative woodcut suites.
G.W. Bot
G.W.Bot. Canberra based artist who works extensively in linocuts.
Keeping in Touch
Open forum
Ways and Means
Alisa Bunbury
Alisa Bunbury is Associate Curator of Prints, Drawings and Photographs, Art Gallery of South Australia. Alisa Bunbury's MA thesis (Melbourne University) was devoted to the Melbourne painter and printmaker Murray Griffin.
Heather Shimmen
Heather Shimmen is a Melbourne based printmaker. Her innovative use of the linocut technique gained her the Grand prize in the Silk Cut Awards for Linocut Prints in 1998.
Kim Westcott
Kim Westcott is a Melbourne based painter and printmaker, Westcott has worked at the Australian Print Workshop, Melbourne, and with Garner Tullis, New York. A monograph on her work was published by Craftsman House, Sydney in 1998.
Roger Butler
Roger Butler is Senior Curator, Australian Prints and Drawings, National Gallery of Australia