Resources
The Harold Wright Scholarship and The Sarah and William Holmes Scholarship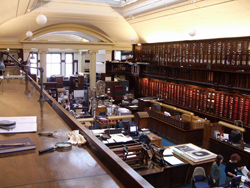 Harold James Lean Wright (1885-1961), philanthropist, print dealer, collector, educator and scholar, from the offices of P&D Colnaghi in Bond Street, London, advised many of the major art institutions and private collectors in Australia and New Zealand on their acquisitions of fine art prints. From the 1950s he donated to the Baillieu Library some 3700 Old Master prints by artists including Rembrandt van Rijn, Albrecht Dürer, the van de Velde family and Jacques Callot, as well some 15 000 rare books focussing on the subject of the history of printing.
On his death in 1961, with proceeds from the sale of his personal print collection, his widow, Isobel Holmes, established the Harold Wright Scholarship for graduates of Australian and New Zealand universities to study first-hand the great print collections of the British Museum.
The purpose of the Harold Wright Scholarship and the Sarah and William Holmes Scholarship is to allow holders of each scholarship to carry out an intensive study of prints at the British Museum, London, for a period of up to twelve months.
It is not intended that the Scholarships be limited to a specific project, specialised research or even a publication. Rather, it is envisaged that the holder will be able to work widely in one of the greatest collections of prints in the world.
The Scholarships cover board and lodging and other necessary living expenses in London for a period of up to twelve months. Provision for travel to and from London is not included. The British Museum normally hosts only one scholarship holder at a time. Both scholarships can also be awarded to the one person.
The Scholarships are available to undergraduates or graduates of Australian or New Zealand Universities, or to other persons deemed by the Selection Committee to be of sufficient scholarly standard.
It is expected that the successful candidate would be a person with a background involving a serious study of prints and that the study at the British Museum would be useful for the furtherance of his/her career.
Administered by the Faculty of Arts, The University of Melbourne
http://arts.unimelb.edu.au/scholarships/prizes-and-scholarships/harold-wright-scholarship-and-sarah-and-william-holmes-scholarship
Recipients